How do you optimise your personal impression during public appearances? How do you capture an audience's attention during the presentation of an academic paper? Can I account for gender effects in interview situations? These questions, among others, were addressed by the doctoral and young post-doc researchers of the Young Researchers Group, the junior subgroup of the research unit International Public Administration.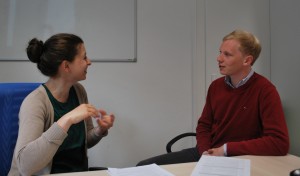 On April, 14-15, the young scholars met for a workshop on self-presentation and interview techniques in Munich. The aim of the workshop was to optimise the presentation and rhetorical skills of the young researchers, hence improving their moderation and presentation abilities. In addition, the workshop was designed to give them training for various interview and discussion situations, providing them with handy techniques for their future path in academia.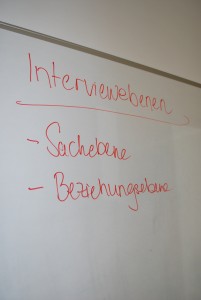 The Young Researchers Group provides an excellent environment for the promotion of young scientists. It is an opportunity to gain experience in conducting independent research in cooperation with the more experienced post-doctoral researchers. The regular meetings offer an excellent opportunity for the junior researchers to discuss the progress of their theses in a group of young peers, foster networks and build mentoring relationships – highly valuable assets for their academic career.